About Us
Here at Gurkhas in Brunswick, we take great pleasure in serving the best Nepalese cuisine around. Using traditional recipes and authentic ingredients, our amazing chefs have come up with a menu that takes you on a tour of the Himalayas. We offer our customers non-vegetarian and vegetarian dishes, and even special requests are welcome. Some of our dishes can be quite fiery, so please ask us to adjust your meal as spicy or mild as you like. Dishes that come highly recommended at Gurkhas include Chiple Bhendi, Kukhra Ma Krim, Kachila Curry, and Sekuwa. Please make sure to try one of our sides, salads, and desserts. Bring a bit of Nepal to your home or office. Order for delivery or collection with our online ordering option today.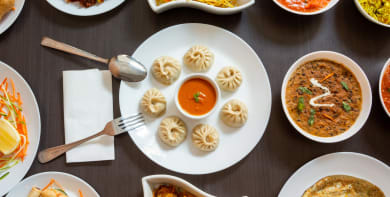 Reviews
20 reviews
Mez
"The curry was delicious as were the prawns, but the roti was doughy and undercooked, raw dough where it was too thick. It's a shame because the rest was really good. I'd just skip the bread."
9/10/2020
Murray
"Always good"
22/09/2020
Angela
"The curries were AMAZING! The roti was AMAZING! Our dessert was beautiful as well. Thank you!"
18/09/2020
Jack
"Really great meal. We tried dishes we have not had before (chicken liver, masala roti, fried cottage cheese), and they exceeded expectations. Friendly delivery driver. Will eat here again."
28/08/2020
Menu
Pharsi Ko (Pumpkin) (GF)
Butternut pumpkin sautéed in veg. Oil, ginger garlic & fresh coriander
$13.50
Dal Bhat Veg (GF)
Gurkha Veg. Platter; spinach, potatoes & green peas, lentil and a choice of rice or Roti
$17.50
Vegetable Chow
Stir-fry noodles with mixed veg. Seasoned with soy and a touch of spice
$12.50
Eggplant (GF)
Eggplant and potato sautéed in curry
$12.50
Dal Jhaneko (GF) Large
Spiced red lintels
$10.90
Mixed Vegetable Curry (GF)
Seasonal Mixed Veg and potato, dried fenugreek, curry sauce
$13.50
BBQ Tofu (GF)
Double stick char grilled serve on the bed of saffron rice + Asian greens touch of aromatic curry sauce
$13.50
Matar Paneer (GF)
Cottage cheese & green peas glazed in curry sauce
$13.50
Dal Jhaneko (GF) Small
Spiced red lintels
$6.00
Chyau Tareko (GF)
Wok flashed mushroom with ginger, soy, sweet Chili and coriander
$13.50
Aloo Kopi (GF)
Cauliflower and potatoes cooked in Nepalese house-wife style
$12.90
Aloo Rayo (GF) - Main Course - Vegetarian Bazaar
Nepali Spinach & potatoes sauté in garlic, dry Chilies
$12.50
Mix Grill (GF)
Combination of grilled Lamb cutlet, chicken cubes and chicken wings, Kebab and Mushroom served with rice and Salad
$22.00
Grill Barramundi Whole Fish (GF)
Grilled Barramundi whole fish served with rice and vegetables
$23.90
Sekuwa
Marinated leg and breast char grilled chicken served with fresh salad and rice in a sizzling plate, sensational
$17.50
Lamb Cutlet (GF)
Succulent grilled lamb cutlets char grilled served with fragrant rice and yogurt salad
$26.00
Masala Roti
2 pcs Flaky bread stuffed with spiced mashed potato
$5.90
Chamre (GF)
Saffron rice, nuts and dry shallots
$6.50
Bhuteko Bhat (GF)
Chicken /Mixed/Veg
$11.90
Garlic Roti
2 Pcs Flaky bread, garlic flavoured
$5.50
Keema Roti
2 pcs Flaky bread, minced meat stuffed in oriental flavour
$6.50
Gurkha Roti Babar
2 pcs Nepalese flaky bread, plain
$4.50
Kukhra Ko Masu (Chicken Curry) (GF)
Traditional chicken curry, typical Nepali style
$14.90
Ginger Chicken Mushroom (GF)
Off the wok ginger flavour chicken with mushrooms & spices
$16.50
Chilli Beef (GF)
Slice tender Beef sautéed with diced capsicum, onion, seasoned withsoy sauce and chillies
$16.90
Chow - Chow (Chicken or Beef)
Wok tossed noodles with mixed veg and your choice of meat
$13.90
Dal Bhat Masu (Nepalese Platter) (GF)
Nepali Style Platter; lentil, spinach, rice or Roti, meat curry of your choice (Chicken, Goat or Beef)
$18.90
Khasiko Masu (Goat Curry) (GF)
Specialty of the house, traditional diced goat meat, garnished with fresh coriander, typical Nepali style
$17.90
Chicken Chilli (GF)
Batter fried tender chicken fillets sautéed with dice capsicum, onion,seasoned with soy sauces chillies
$16.90
Chicken Masala (GF)
Stir fry boneless chicken with mixed veg seasoned with fresh herbs and spices
$15.90
Kukhra Ma Krim (Chicken Cream) (GF)
Boneless chicken curry, rich in flavour with a dash of cream
$15.50
Goruko Masu (Beef Curry) (GF)
Tender slices of beef cooked in rich curry with fresh coriander
$16.90
Chilli Prawns (GF)
Irresistibly spicy fresh green prawns with capsicum and onions, touch of soya serve w rice & salad
$19.90
Chow Seafood
Wok tossed noodles w mixed seafood and Nepalese spices
$13.90
Fish Chilli (GF)
Batter fried fish sautéed with dice capsicum, onion with touch of ginger garlic
$15.90
Jhinge Tarkari (Prawn Curry) (GF)
Fresh green prawns smothered in rich curry with mix Veg
$18.90
Calamari
Stir fry, sautéed with a touch of ginger garlic, a very popular dish @ Gurkhas
$15.50
Hariyo Saagpat (Green Salad) (GF)
Asian fresh Greens tossed with Nepalese dressing
$8.90
Charako Salad (Chicken Salad) (GF)
Char Grilled Julienne of chicken on the bed of Salad mix topped with oriental dressing
$10.90
Masuko Salad (Beef Salad) (GF)
Char Grilled Julienne of Beef on the bed of Salad mix topped with oriental dressing
$10.90
Roti Chana
Curried chick pea & potato serve w roti bread, salad on side
$6.90
Pakheta (Chicken Wings)- 4 pcs
Marinated chicken wings off the grill, served with saffron rice
$7.90
Pakauda
Potato fritters served with tomato chutney
$6.50
MoMo (Meat or Veg. or mixed - 5 pcs)
Ginger lamb dumplings bamboo steamed subtle, taste and texture served with sesame hinted tomato chutney
$7.90
Nepali Kebab
Beef Kebab on bed of saffron rice with peanut butter sauce
$8.90
Garlic Prawn
Garlic flavor curry prawns with roti and garnish salad
$9.90
Small Calamari
Our chef's creation: stir fry oriental
$8.90
Singada
Curry puff-potato filling drizzled with plum sauce
$6.90
Springy (6 Pcs)
Vegetarian spring, homemade with plum sauce
$7.50
Chhoila (GF)
Choice of chicken or beef diced sautéed with caramelized onion, cumin & ginger
$8.90
Mixed Entrée Platter
A mixture of varieties of different entrees from the menu
$17.50
Gurkhas Special
An interesting mix of texture suited to any palate, flower cup Pappadam, fried lentils, spiced potatoes, yogurt top
$7.90
Poleko Kukhra
Bite size chicken cubes off the grill, chilli mayo, and fresh salad
$8.90
Bhuta ma Chuira (GF)
Wok tossed chicken liver, cumin, and cilantro, spring onions garnished with crispy rice and coriander leaves
$8.50
Ice Cream
Plain vanilla ice vream or with choice of toppings mango or strawberry flavor
$6.50
Rato Mohan (Cottage Cheese balls)
Fried cottage cheese balls soaked in sugar syrup, sprinkled with coconut, warmly served
$5.90
Khir (Rice Pudding)
Homemade rice pudding, simple and creamy
$5.90
Nepalese Delight
Ice cream, made of condensed milk, pistachio nuts and flavored with mango
$7.90
Chana Ra Aloo (GF)
Potato and chickpeas in mild curry sauce
$5.90
Baigun Ra Aloo (GF)
Sliced egg-plant and potatoes, stir in light curry sauce
$6.90
Dal Ma Rayo (GF)
Lentils with stir fried Nepalese spinach
$6.90
Raita (Yogurt)
Chopped tomato, cucumber, onions and apples in homemade yogurt
$5.50
Aloo Rayo (GF) - Side Dishes
Stir fried potato and Nepalese spinach
$6.90
Coffee
Flat White, Cappuccino, Café Latte, Short black, long black, Maciata
$4.00
Tea, Herbal Tea
Chamomiles, Earl gray, Peppermint, Lemon, Green Tea, EnglishBreakfast Tea
$3.00
Contact Us
Find Us
414 Sydney rd, Brunswick, 3056
Opening Hours
Tuesday
4:00 PM - 9:30 PM
Wednesday
4:00 PM - 9:30 PM
Thursday
4:00 PM - 9:30 PM
Saturday
4:00 PM - 9:30 PM
Please note, delivery times may vary.
We deliver to
3052 Parkville, 3055 Brunswick West, 3056 Brunswick, 3057 Brunswick East, 3058 Coburg